FIPP at INCOSAI 2022
Your feedback matters!
YOU ARE AN IMPORTANT CONTRIBUTOR TO THE FURTHER DEVELOPMENT OF THE INTOSAI FRAMEWORK OF PROFESSIONAL PRONOUNCEMENTS (IFPP)
You will soon receive an invitation to comment on the new Strategic Development Plan (SDP) 2023-2025
The new SDP will define the further development of the INTOSAI framework
Your feedback is an important contribution to developing a framework that supports your SAI in the best possible manner
Link to the presentation at the FIPP boot at INCOSAI 2022
INTOSAI Framework of Professional Pronouncements (IFPP)
The IFPP consists of principles, standards and guidelines. The principles (INTOSAI -Ps) can be used both by SAIs and by lawmakers in developing SAI legislation and mandates. The standards (ISSAIs) describe the requirements that SAIs need to follow to be ISSAI compliant. The ISSAIs cover financial, compliance and performance audits. The guidelines (GUIDs) give support to the auditor or SAIs when conducting individual audits.
Your contribution matters!
Give feedback when your SAI is invited through a public consultation / Exposure process. You will find the current invitations to comment on individual pronouncements on https://www.issai.org/ and https://www.intosai.org/.
appoint people from your SAI to participate in INTOSAI bodies that develop content for the IFPP
engage in the network of INTOSAI standards liaison officers (ISLO). You will find more information regarding the ISLO network on https://www.psc-intosai.org/liaison-officers/.
The process for developing pronouncements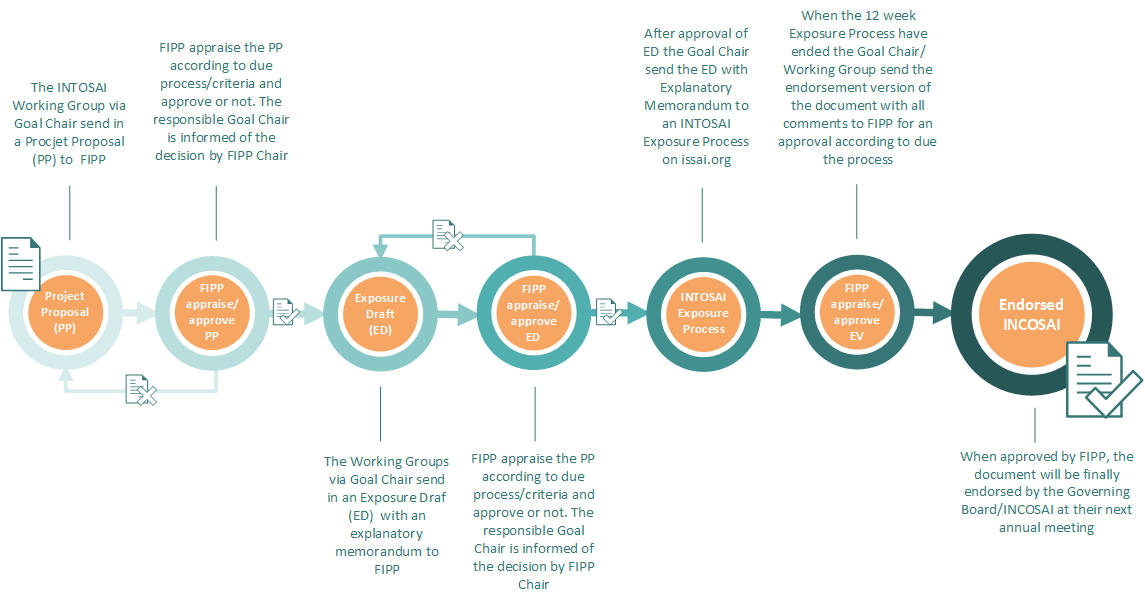 Forum for INTOSAI Professional Pronouncements (FIPP)
FIPP strengthens INTOSAI as an international standard setter and drives the continued development of the IFPP. Further FIPP ensures a single entry into the IFPP and secures a uniform approval process.
FIPP consists of experts who act in the interest of INTOSAI.
FIPP promote public-sector auditing of high quality to the benefit of users of SAI audit reports and the general public.
FIPP members shall represent different SAI models, cover different INTOSAI regions, are experts in different fields within a SAI and represent both small and large SAIs.
Members are selected following an open call for nominations. All INTOSAI members can appoint candidates from their SAI. Information about the next call for candidates will be shared with your SAI in early 2023 by e-mail. More information can be found on www.psc-intosai.org.
How INTOSAI ensures that the IFPP is relevant for different SAI contexts
The IFPP is improved through a Strategic Development Plan (SDP). A new SDP is now under development. You will soon receive an invitation from FIPP to comment. We would love to hear from you and your SAI.
Your feedback can include both tasks you may have that are not covered in the current IFPP or challenges you might have in implementing the current IFPP. This will help FIPP in developing a framework that supports your SAI in fulfilling your mandate and deliver high quality audits.
Do you want to contribute?
Information on the development of the next SDP can be found here.